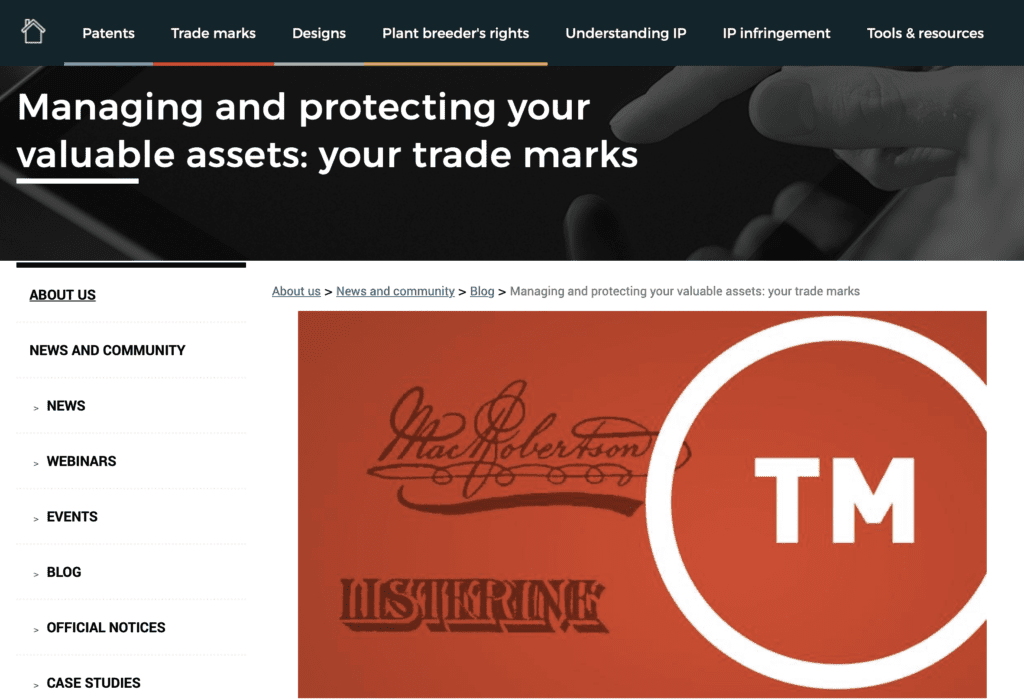 I'm in the process of revising my first book—Designer Law School: Legal lessons for design entrepreneurs. As part of this process, I conducted some 'quick and dirty' qualitative research regarding the importance—or otherwise—of trade mark registration.
The themes that ran through the research data were a mix of some participants (and/or their clients) not knowing the difference between business names, trading names, and trade marks. Most agreed that it should be part of the brand strategy—before any creative work to develop the brand identity is undertaken—but often did not complete any checks before the brand name and identity were fully developed and ready for launch.
The main overriding theme was that most thought that registration of a business name / company was enough to protect their trade marks. But this is not the case and my guest Blog for IP Australia is still relevant today as it was when it was published in 2017.
The most important thing to remember is not to become too attached to the business name before your talk to brand experts. There are many things to consider before the design work can commence. The business structure and the ownership of IP are important to get right, right from the start. Your trade mark is more than a business name; trade marks are valuable assets.
For more information: email@christinemoody.com.au or +61 419 888 468.
*Christine Moody is one of Australia's leading, multi-award winning brand strategists, and the founder of brand management consultancy, Brand Audits and a diverse range of other brands including The Wrap Dress, Poppy Cakes, Designer Law School, and Travel Stitch. With more than 35 years' professional experience, Christine has helped a diverse client base of local and international high-profile brands with challenging and diverse range of strategic projects—including Gold Coast City Council, Hilton Hotels, Terry White Chemists, International Cricket Council (UAE), Wrigleys (USA), and Become (USA)—to develop, protect and achieve brand differentiation. She is able to think strategically and beyond the obvious, to deliver outstanding insights to executives at Board, CEO, and Marketing Director level. She is also an author with her first book Designer Law School: Legal lessons for design entrepreneurs published in 2015, and is currently working on her second book, Smashing Plates. Christine has a passion for life-long learning and is currently studying law with a focus on the protection of a brand's intellectual property.
"…I teach executives the importance of brands by using insights from outstanding global retailers to identify trends and innovations to inspire the entrepreneurial spirit in their own organisations…"
(Photo: IP Australia Blog page x Christine Moody)