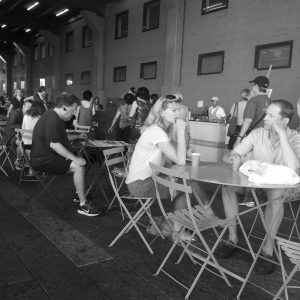 When we established the retail store for Poppy Cakes, one of the most important measures—beyond revenue for the day—was customer satisfaction. To measure this, we simply called every single customer who had ordered cakes and cupcakes for their special event—weddings, anniversaries, birthdays, christenings et al—and asked them one question…"Would you recommend us to family and friends?".
This was inspired by the 2003 Harvard Business Review article: 'The one number you need to grow' by Frederick F Reichheld, which outlines a process to "measure and manage customer loyalty without the complexity of traditional customer surveys". And while seeking to rank our customers' experience with us, it also gave me an opportunity to talk to them further and dig deeper about why they chose Poppy Cakes for their event. We could also dig a little deeper by asking further questions if we felt there may have been an issue or a problem with their order. This method also gave us inspiration for new innovative products such as the award-winning 'Party in a Box'.
As the business world becomes increasingly competitive, we need to find ways to get closer to our customers. While collecting digital data is important, nothing can replace talking face-to-face,  real-time, conversations with the most important people in your business—your customers. Repeat business is the lifeblood of any business—especially retail business—and even though this takes time to call each customer, it's worth it to build customer loyalty and repeat business.
How often do you talk to your customers?
*Christine Moody is one of Australia's leading, multi-award winning brand strategists, and the founder of brand management consultancy, Brand Audits and a diverse range of other brands including The Wrap Dress, Poppy Cakes, Designer Law School, and Travel Stitch. With more than 35 years' professional experience, Christine has helped a diverse client base of local and international high-profile brands with challenging and diverse range of strategic projects—including Gold Coast City Council, Hilton Hotels, Terry White Chemists, International Cricket Council (UAE), Wrigleys (USA), and Become (USA)—to develop, protect and achieve brand differentiation. She is able to think strategically and beyond the obvious, to deliver outstanding insights to executives at Board, CEO, and Marketing Director level. She is also an author with her first book Designer Law School: Legal lessons for design entrepreneurs published in 2015, and is currently working on her second book, Smashing Plates. Christine has a passion for life-long learning and is currently studying law with a focus on the protection of a brand's intellectual property.
"…I teach executives the importance of brands by using insights from outstanding global retailers to identify trends and innovations to inspire the entrepreneurial spirit in their own organisations…"
For more information: email@christine.moody.com.au or +61 419 888 468.
(Photo: Blu Bottle cafe on the High Line NYC x Christine Moody)