Coming Soon-ish!
> Drawing Strength x Christine Moody
………………………………………………………………………..
Designer Law School. Legal Lessons for design entrepreneurs.
x Christine Moody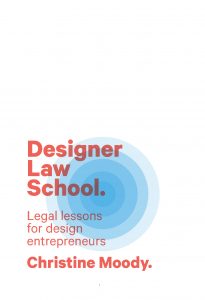 Christine Moody is one of Australia's leading brand strategists. She is the founder of brand management consultancy, Brand Audits, and several successful start-up companies. Designer Law School is her latest venture.
This book is a cautionary tale for all designers, entrepreneurs, managers, and educators. With the wit and wisdom born of long experience (and some pretty hard knocks along the way), Christine encourages her fellow designers (and all designers, creatives, and entrepreneurs, for that matter) to respect and understand the legal issues that affect their daily business. In a series of practical 'lessons' full of 'good-to-know' tips and topics, the book alerts others to the risks of 'doing business' without a keen eye on the possible legal pitfalls along the way. At the same time, Christine engages the reader through her obvious care and concern for their challenges and encases her 'lessons' in the motivational framework of her personal struggle for justice and survival.
"All entrepreneurs have a list of things they wish they had known before starting a business. But what if you could learn them all in one place, sparing yourself endless hassle and confusion? This book lays out the steps you need to take to protect your interests and create a thriving, lucrative design practice."
Dorie Clark, author of Stand Out and Reinventing You, and adjunct professor, Duke University's Fuqua School of Business
"This is a book you should read before starting any new business."
Jan O'Connor, Cofounder, T2; and Director, Environa Studio
This book is one of the references for Monash University's "Entrepreneurship and the law" unit. To order:


---
Investigating how customer insights inform strategy leading to brand differentiation in the retail sector
x Christine Moody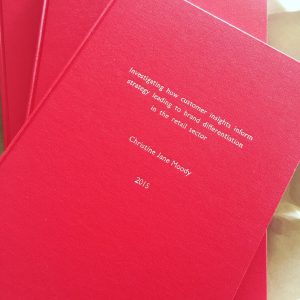 Using qualitative research with case studies of firms in the Australian retail sector, this thesis explores the link between brand differentiation, customer insights, and strategy development to deliver a unique customer experience. The research focus is how brand expression is driven by customer insights. Findings indicate that customer experience is made tangible by the strategic design and alignment of the brand's expression and is crucial to retail success. A significant practical outcome is the development of the Brand Differentiated Model. Created as a tool to potentially assist retailers to develop brands from the 'inside out' and confront future disruptions.
Download the thesis here: Christine_Moody_Thesis
---
Gumption Trigger
Curated x Catherine Ball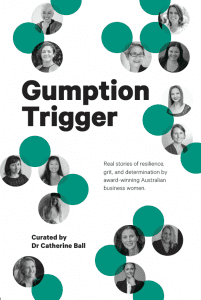 How do we use our experiences to make better business decisions? This book tells some life-changing stories from award-winning and up-and-coming Australian business women. Be ready to absorb some powerful tips, tricks, and advice about getting immovable objects and unstoppable forces working for you and your business ideas.
"A book like this one is so very important because it tells the stories that aren't always told, the stories of the difficult, challenging, awful times and how each of those telling the stories found a way to locate and deploy the thing that can get you through those toughest of days—your Gumption Trigger."
Cathie Reid—Co-Founder of Australia's Epic Group, including Epic Pharmacy and Epic Good Foundation, and Digital Advisor to the Icon Group Board.
---
Design Thinking Bootcamp: My Stanford University 'd.school' journey
x Christine Moody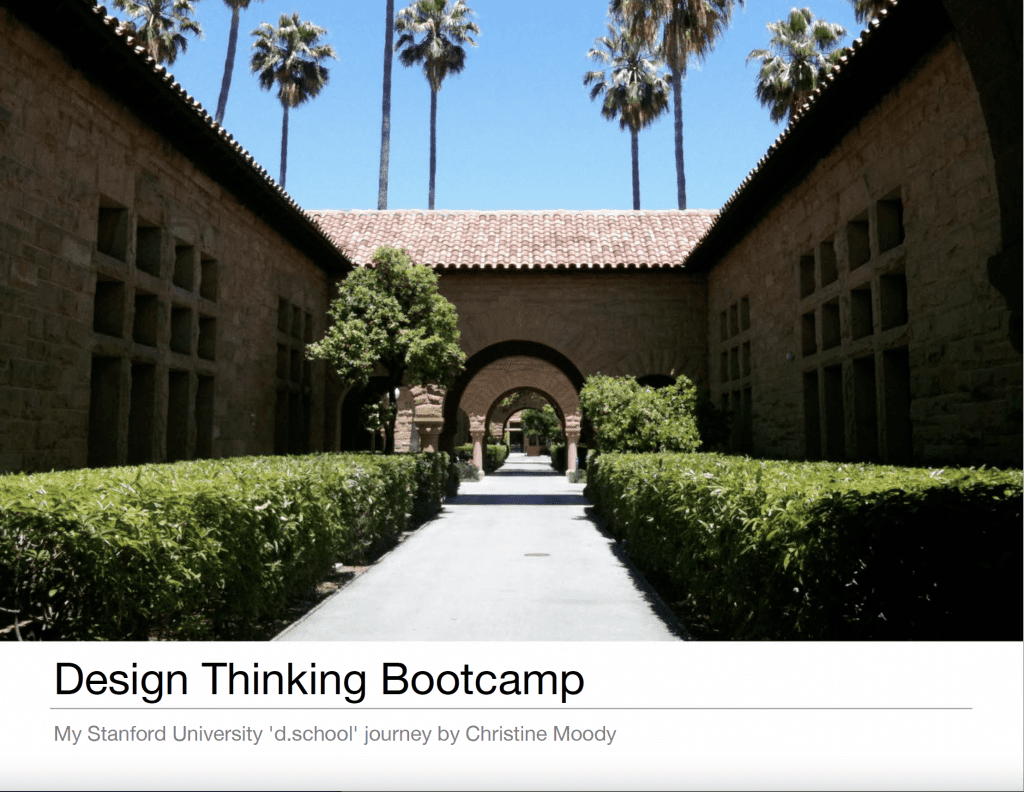 This book captures my experience at Stanford University Executive Program's Design Thinking Bootcamp. I attended as part of my continuing professional education as well as research for my Queensland University of Technology (QUT) Masters Degree. Taught in the customised studio space at Stanford's Hasso Plattner Institute of Design (d.school), the program aims to help executives to: better understand employee and customer experiences; develop deeper insights for innovation; and improve overall employee and customer satisfaction.
Download the book here: Design Thinking Bootcamp