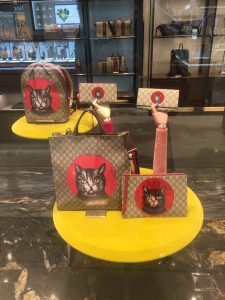 Last week I visited Shanghai, and as usual, I was blown away by the energy of Shanghai's bricks-and-mortar retail offering and the ease of shopping in this overwhelmingly, hectic city. While luxury brands have created the high-end brand experience by heavily investing in brand design—from the unique product design to expensive store design—the less-known brands also understand the importance of the brand experience. It seems that the brand experience is just as important to the tiny corner vendors selling fruit and vegetables as it to small convenience stores, shopping malls, fine dining restaurants, and cafes.
A great brand experience starts with making the sales of goods easier for the customers and removing the 'pain points'. The brilliant display of the goods, the prominent pricing to make decisions easier, the use of QR codes made transactions both easy and painless! And the staff are only too willing to help you make the right choices—whether you're buying a Gucci bag or just a bag of grapes!
As in any global city, retail is extremely competitive and these Shanghai businesses understand that it's becoming increasingly competitive as the retail sector explodes with new shopping precincts opening every day. Stores recognise that creating a great customer experience is key to repeat business and central to this is the ease of cashless payments. No matter the vendor's size, a simple scan of the QR code and payment via Alipay and WeChat Pay (Apple Pay not available in China) and the customer is out the door with goods in hand as quickly as possible.
Thank you Shanghai for the retail lessons.
*Christine Moody is one of Australia's leading, multi-award winning brand strategists, and the founder of brand management consultancy, Brand Audits and a diverse range of other brands including The Wrap Dress, Poppy Cakes, Designer Law School, and Travel Stitch. With more than 35 years' professional experience, Christine has helped a diverse client base of local and international high-profile brands with challenging and diverse range of strategic projects—including Gold Coast City Council, Hilton Hotels, Terry White Chemists, International Cricket Council (UAE), Wrigleys (USA), and Become (USA)—to develop, protect and achieve brand differentiation. She is able to think strategically and beyond the obvious, to deliver outstanding insights to executives at Board, CEO, and Marketing Director level. She is also an author with her first book Designer Law School: Legal lessons for design entrepreneurs published in 2015, and is currently working on her second book, Smashing Plates. Christine has a passion for life-long learning and is currently studying law with a focus on the protection of a brand's intellectual property.
"…I teach executives the importance of brands by using insights from outstanding global retailers to identify trends and innovations to inspire the entrepreneurial spirit in their own organisations…"
For more information: email@christine.moody.com.au or +61 419 888 468.
(Photo: Shanghai Gucci store x Christine Moody)