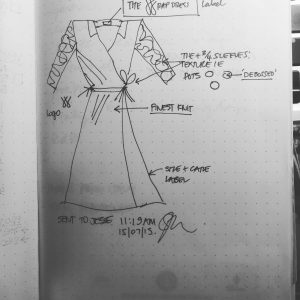 Brand + Business x Christine Moody* 
I have always been obsessed with stationery. This started with my love of art but also with the regular visits to my Dad's office as a young girl. Pre-digital anything and pre-Officeworks, businesses were required to stockpile stationery—paper, pens, paperclips et al. This backroom treasure trove was heaven to me back then. My stationery and drawing obsession is useful in solving problems.
Whenever I start a new project or a new business idea, the first thing I do is start with a fresh new notebook and put the Dymo-taped project name on the front cover. This assists with organising the project by storing all relevant information in one place and also serves as the place to dream, draw, and solve problems regarding the project. Whenever I am trying to solve a problem, out comes the notebook and I draw "what I know to date" and write down the key points in each diagrammatic drawing. I have used technique this to solve diverse and complicated business and personal problems and even legal problems for law school assignments (my lawyer sister even commented: "Contract law never looked so beautiful!").
…this is not an art project but rather a problem-solving exercise…
Many of you may be thinking you're not 'artistic' or 'creative' but this is not an art project but rather a problem-solving exercise. A problem visualised in a one-page format forces you to edit down to include only the key information. It also allows you to circulate key information to all stakeholders. It's about getting what's in your head, out onto the peice of paper. Hand drawing aesthetic also helps to create a sense of a work-in-progress draft—helpful for early project discussions.
I find that problem solving is best done by hand (versus computer) because it's the very act of putting pen to paper that assists with process. The other key thing is to keep the diagram current by redrawing and refining whenever the key information is updated. I remember buying a notebook for a specific matter (read 'major problem'!) with '365' on the cover—with one page dedicated to each day. What attracted me to this particular notebook was that I knew I needed at least 365 days to work through the problem but it gave me permission to give myself time to work it out.
This notebook went with me everywhere and I loved looking back over my drawings, notes, and diagrams as I gradually worked through things. I noticed that diagrams became more simplified and less complicated. This reflected the fact that I was solving the problem and had a created a clear strategy.
…a picture is worth a thousand words..
They say that "a picture is worth a thousand words" and a hand-drawn diagram communicates so much more than a word document ever could. Try it! I'd love to hear how you go!
*Christine Moody is one of Australia's leading, multi-award winning brand strategists, and the founder of brand management consultancy, Brand Audits and a diverse range of other brands including The Wrap Dress, Poppy Cakes, Designer Law School, and Travel Stitch. With more than 35 years' professional experience, Christine has helped a diverse client base of local and international high-profile brands with challenging and diverse range of strategic projects—including Gold Coast City Council, Hilton Hotels, Terry White Chemists, International Cricket Council (UAE), Wrigleys (USA), and Become (USA)—to develop, protect and achieve brand differentiation. She is able to think strategically and beyond the obvious, to deliver outstanding insights to executives at Board, CEO, and Marketing Director level. She is also an author with her first book Designer Law School: Legal lessons for design entrepreneurs published in 2015, and is currently working on her second book, Smashing Plates. Christine has a passion for life-long learning and is currently studying law with a focus on the protection of a brand's intellectual property.
For more information: email@christine.moody.com.au or +61 419 888 468.
(Photo: The Wrap Dress specifications for American Knitting Company NYC x Christine Moody)