07 July 2022
Brooch warfare
x Christine Moody
The ABC 'Every Day' article: "Want to stand out and be more memorable? Try pinning on a brooch" — reminded me of the terms 'pin diplomacy' or 'brooch warfare' employed by the likes of — and my inspiration for my brooch drawings #DrawingStrength — former US Secretary of State, Madeleine Albright and US House Speaker, Nancy Pelosi's choice of brooches to send a message. Perhaps it's time we all donned a brooch to send a message?
Find the ABC article here: https://ab.co/3uwtaMp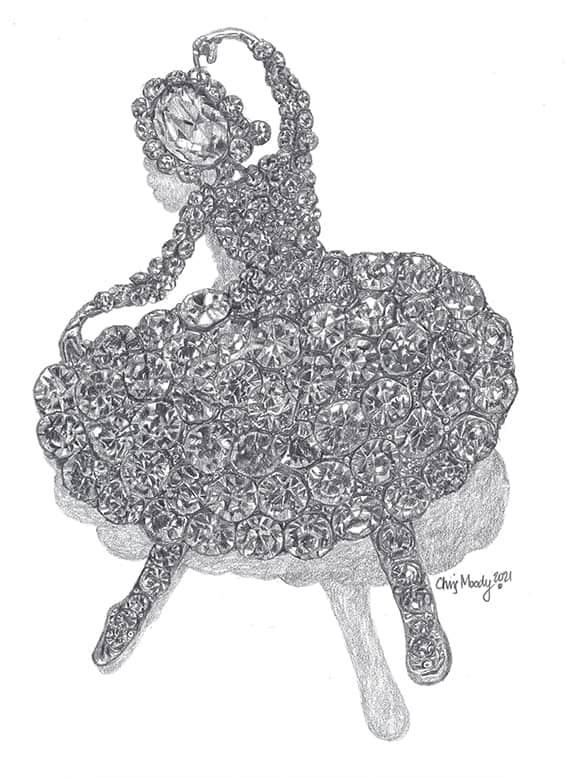 ---
30 August 2021
On falling, and getting back up
x Christine Moody
This New York Times article "How a runner turned a nightmare into a great Olympic moment" has lessons for everyone—even if you don't run!
Falling in an Olympic race is a runner's worst nightmare. But how did Olympian Isaiah Jewett "turn it into something else entirely…" x Talya Minsberg, The New York Times
Find The New York Times article here: https://nyti.ms/3BmKioD
---
10 August 2021
Smith's clocks up 90 years in Australia!
x Christine Moody
"PepsiCo ANZ, the company that owns The Smith's Snackfood Company, contracts 120 million kilograms of potatoes annually from 47 sites ranging from northern Queensland to southern Victoria." Why is the type of potato and its quality, so important to create that famous, crinkle-cut crunch? The chips go through a rigorous quality control process including taste testing…pick me! (I'm a Smith's tragic.)
Find full ABC Landline article here: https://ab.co/3AvrNhh
---
02 August 2021
Business and trade mark registrations are booming!
x Christine Moody
According to ASIC and IP Australia, business name registrations (up 40%) and trade mark registrations (up 10%) are booming. However, according to Dan Petrie's column 'Down to business' in The Sunday Mail (2021, August 01, News, p.35) these figures are hiding the truth. Petrie believes it's to do with the rise of the 'independent contractor' or 'freelancer'…
Article x The Sunday Mail
---
29 July 2021
Simplicity has always been the key
x Christine Moody
In the 'old days' (BM—Before-Macs), one of the most crucial aspects of logo design was to ensure that it was robust enough to work across all brand touch points—from the signage on the office tower to the logo on the conference pen. Nice to see that this consideration has returned PM (Post Macs).
Article x Monocle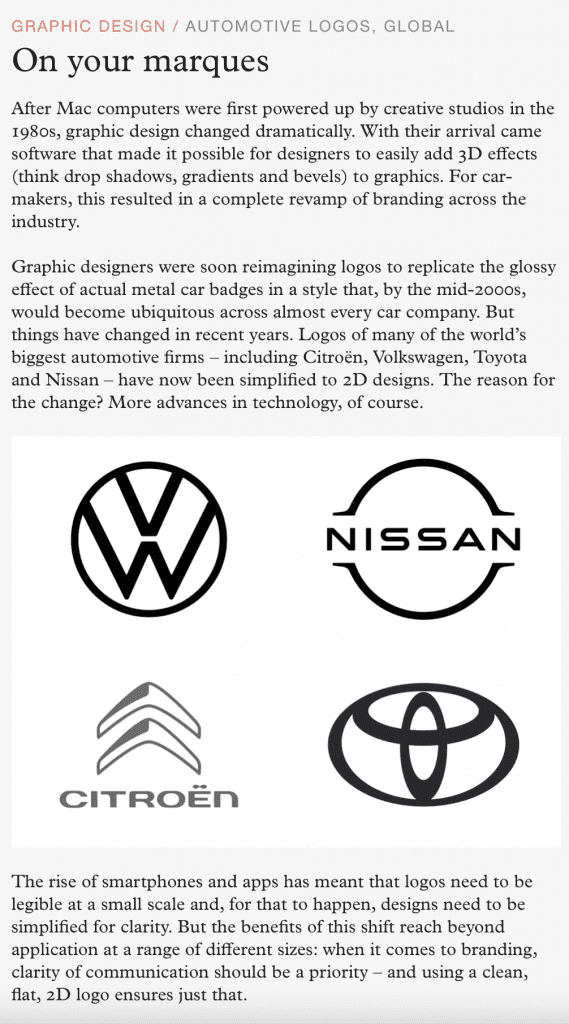 ---
27 July 2021
In-N-Out Burger, In-N-Out of Court
x Christine Moody
Another day, another trade mark infringement case for Australian businesses—In-N-Out Burger is in court again with Australian burger business x Matthew Elmas
Find full SmartCompany article here: https://bit.ly/3iTOAfx
---
26 July 2021
Making JOY a priority at work
x Christine Moody
Given the Summer Olympics have just started in Tokyo, this Harvard Business Review article is very timely as it discusses the power of JOY which is clearly visible in championship athletes. Can this JOY be replicated in business? x Alex Liu
Find full HBR article here: bit.ly/3y6UujV
---
14 June 2021
The value of a blue-coloured box?
x Christine Moody
Earlier this year, LVMH (finally) acquired Tiffany & Co. including of course, the intangible assets. The US$15.8 billion price tag includes their valuable intangible assets such as their brand identity—Tiffany logo and robin's egg blue colour, et al ). The robin's egg blue box colour with the white satin ribbon is possibly the most recognisable and most desired retail 'container' in history.
Brand identity is fast becoming one of the most valuable assets for a business and the value of intangible assets continues to grow. For example, when I wrote the first 'Guest Blog' for IP Australia in June 2017 (Managing and protecting your valuable assets: Your trade marks), the market value was 85%. Contemporary asset value (for intangible assets such as brands) is now over 90 per cent of the market value of Standard & Poor's 500 Index companies, according to the latest report by Ocean Tomo Intangible Asset Market Value Study. Yet protection of this value asset ie, brand identity, is often overlooked until it's too late.
While 'brand' is most often associated with logos, it actually encompasses much more. Brand and brand name is integral to how an organisation engages with its customers and market and in many cases is its most recognisable asset. This is particularly the case for businesses that have little in the way of physical infrastructure or locations. The best way to protect your brand identity is with trade mark (TM) registration and then once registration has been secured, using the TM consistently across all touch points.
Find full report here: Ocean Tomo Intangible Asset Market Value Study
---
19 April 2021
More than hot 'Air'?
x Christine Moody
Today's Sydney Morning Herald reports on Australia's gig economy platform Airtasker's ongoing battle (since 2019) with US-based Airbnb for trade mark registration outside of Australia. Both are currently registered at IP Australia, however as Airtasker continues global expansion plans, it's come up against opposition from Airbnb to trade mark its name in Europe. Airbnb's main issue, is around the use of the word 'Air' and their belief that Airtasker is trading off the more well-known Airbnb name.
---
29 March 2021
Is it worth registering my trade mark?
x Christine Moody
A question I'm regularly asked is: Is it worth registering my trade mark?
The perceived barriers cited are: The business name is already registered and that's sufficient considering the current company size; and the perceived high cost and time the registration process takes via IP Australia. Before I answer the TM question, I'd firstly like to highlight the increase in the number of trade mark infringements reported in the media lately.
For example, last week the 'bun fight' continued in the courts between two burger companies: US-based company In-N-Out Burgers v In-NOut Aussie Burgers and Down-N-Out (Australian-based companies). And staying with the food theme, there's also a very 'sticky situation' developing over doughnuts WTF Doughnuts v OMG Doughnuts. There are many case studies regarding trade mark issues with many of these potential TM infringements avoided by conducting some basic trade mark checks.
Even if you don't proceed all the way to trade mark registration, by performing the basic checks, you can have some level of confidence that your brand name is unique and potentially 'trade markable'. You may also avoid costly legal action and legal costs in the future. And beyond the legal aspects, don't you want to create and build a valuable and unique brand?
The top three items on my trade mark checklist are:
1. Resist falling in love with your brand name before completing the basic checks: Many brand names are developed by the founder of the business. They love the name they've created and don't consider other alternatives which is a problem if their brand name is not suitable or available for registration. When you meet with your brand expert, come with an open mind and ready to consider lots of other options.
2. Make trade mark checks part of your brand strategy: With any new brand, brand extension, or rebrand take the time to check your proposal with your brand experts. The time spent on this process means less chance of your valuable resources being wasted, ie, designing the brand's identity and website only to find out that they can't be used.
3. Be prepared to fight for your brand name: It's not a matter of 'set and forget'; you need to have processes in place to check what others are using as it's your responsibility to ensure you're enforcing your rights. And if you decide to register your TM, it's not IP Australia's role to police your rights or launch legal proceedings on your behalf. To best protect your brand, you must conduct regular brand audits to potentially prevent and avoid long, expensive legal proceedings.
So, to answer the TM question: Is it worth registering my trade mark?
I always respond: Yes, it is definitely worth registering your trade mark. However, before you fall in love with your brand name and rush off to IP Australia, consider completing the basic trade mark checks first. It will save you time, money, and heartache down the track.
---
16 March 2021
The top three insights from my brand audits
x Christine Moody
I have been creating, managing, and auditing brands for over forty years. Although every audit is different—as every organisation is different—I find at least three commonalities across every audit. The top three insights are:
1. Brand is the Marketing Department's responsibility: Brand management is the responsibility of everyone within the organisations and at all levels. If the internal stakeholders don't understand what the brand stands for, how can they communicate the brand's point of difference or value proposition to their customers?
2. Over-reliance on social data: While data collected from social media platforms can provide some important customer insights, other sources must be used to truly understand your customer. Regular and consistent primary data collection is an imperative ie, observing and talking directly to your customers. This not only improves customer retention rates but also provides insights leading to both the improvement and development of product and service offerings.
3. Practising unsafe asset management: The use of unprotected intellectual property and brand identity elements ie, unregistered trade marks or those that have extended beyond the original registered classes. You brand assets (logos, slogans et al) are valuable assets and need protection. It's also vital your organisation uses the trade marks consistently across all customer touch points in the registered format.
The outcome of a brand audit is to identify and correct inconsistences leading to the ongoing protection of your brand assets and to increase your brand equity. More importantly regular brand audit ensures your valuable assets remain protected.
For more information: email@christinemoody.com.au or +61 419 888 468.
Christine Moody is one of Australia's leading, multi-award-winning brand strategists, and the founder of brand management consultancy, Brand Audits and a diverse range of other brands including The Wrap Dress, Poppy Cakes, Designer Law School, and Travel Stitch. With more than 40 years' professional experience, Christine has helped a diverse client base of local and international high-profile brands with challenging and diverse range of strategic projects—including Gold Coast City Council, Hilton Hotels, Terry White Chemists, International Cricket Council (UAE), Wrigleys (USA), and Become (USA)—to develop, protect, and achieve brand differentiation. She is able to think strategically and beyond the obvious, to deliver outstanding insights to executives at Board, CEO, and Marketing Director level. She is also an author with her first book Designer Law School: Legal lessons for design entrepreneurs published in 2015 after completing her Masters' thesis: Brand differentiation in the retail sector. Christine has a passion for life-long learning and has completed academic studies in a range of areas including design, communications, business, advertising, creative industries, and law. She is also a Sessional Academic at QUT Business School.